$13.65
Pololu Australia
can send us
28
units of the
P-Star 25K50 Micro
. We can dispatch from
Sydney
in
2-7 business days
if you order now.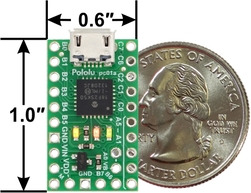 P-Star 25K50 with U.S. quarter for size reference.
Overview
The Pololu P-Star 25K50 Micro is a general-purpose programmable module based on Microchip's PIC18F25K50 microcontroller, which has 32 KB of flash program memory, 2 KB of RAM, and built-in USB functionality. Onboard features of the P-Star (abbreviated P*) include a 16 MHz crystal, a USB Micro-B connector, and three user-controllable indicator LEDs. A voltage regulator and power selection circuit allow the board to be powered from either USB or an external 5.5 V to 15 V source, while a resettable PTC fuse on the USB VBUS supply and reverse protection on VIN help protect it from accidental damage. The board ships with a USB bootloader that makes it easy to program the PIC microcontroller without using an external programmer.
Our comprehensive user's guide provides the basics you need to get started with the P-Star 25K50 Micro as well as detailed technical information.
This product requires a USB A to Micro-B cable (not included) to connect to a computer.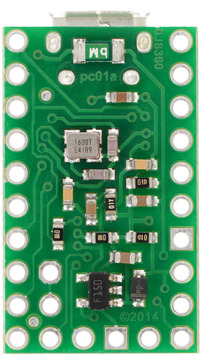 P-Star 25K50 Micro, bottom view.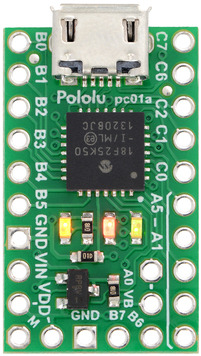 P-Star 25K50 Micro, top view.
Features
Dimensions: 1″ × 0.6″ (1.05″ × 0.6″ including USB Micro-B connector)
Programmable Microchip PIC18F25K50 microcontroller

32 KB flash (8 KB used by bootloader, leaving 24 KB available for user program by default)
2 KB SRAM
256 bytes of EEPROM
Native full-speed USB (12 Mbps)

5 V logic voltage
Internally clocked at 48 MHz, resulting in execution speeds up to 12 million instructions per second (MIPS)
Precision 16 MHz crystal
Many I/O lines in a small package

16 user I/O lines along the sides of the board
3 additional I/O pins available in other locations
13 pins can be configured as analog inputs
2 PWM output signals (one of which can be sent to four different pins)
5-bit digital-to-analog converter (DAC) output

Three user-controllable LEDs
USB Micro-B connector
Can be powered from USB or external source regulated to 5 V by onboard regulator
Operating voltage: 5.5 V to 15 V

Can operate down to 3.8 V with decreased logic voltage

Reverse-voltage protection on external power input
PTC fuse on VBUS supply
Ships with a proprietary USB bootloader developed by Pololu for the P-Star
Bootloader is usable from Windows, Linux, and Mac OS X with open source software
No external programmer required
Compatible with standard Microchip compilers, development tools, and programmers
Comprehensive user's guide
Pinout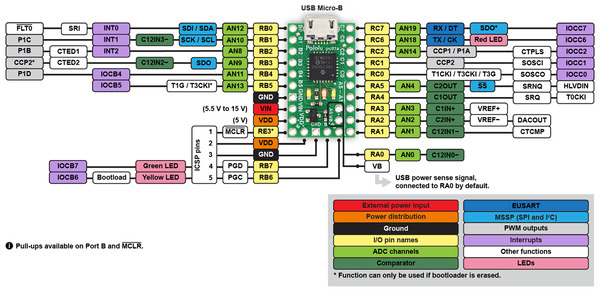 P-Star 25K50 Micro pinout diagram.
This diagram identifies the I/O and power pins on the P-Star 25K50 Micro. The diagram is also available as a printable PDF (161k pdf). For more information about the PIC18F25K50 microcontroller and its peripherals, see Microchip's PIC18F25K50 documentation.
Included hardware
Two 1×10-pin breakaway 0.1″ male headers and one 1×6-pin breakaway 0.1″ male header are included with the P-Star 25K50 Micro. These header pins can be soldered in to use the board with perfboards, breadboards, or 0.1″ female connectors.
| | |
| --- | --- |
| P-Star 25K50 Micro with included optional headers. | The P-Star 25K50 Micro with soldered headers and connected USB cable. |
---
Specifications
Dimensions
| | |
| --- | --- |
| Size: | 0.6″ × 1.05″ × 0.18″1 |
| Weight: | 1.3 g2 |
General specifications
| | |
| --- | --- |
| Processor: | PIC18F25K50 |
| RAM size: | 2 Kbytes |
| Program memory size: | 32 Kbytes3 |
| Motor channels: | 0 |
| User I/O lines: | 164 |
| Minimum operating voltage: | 5.5 V |
| Maximum operating voltage: | 15 V |
| Logic voltage: | 5 V |
| Reverse voltage protection?: | Y5 |
| External programmer required?: | N |
Notes:
Without included optional headers. This measurement includes the USB Micro-B connector, which extends 0.05″ past the edge of the PCB.
Without included optional headers.
8 KB of the MCU's 32 KB of flash memory is used by the pre-installed USB bootloader. All 32 KB is available if you use an external programmer and erase the bootloader.
All 16 can be used as digital I/O, 13 can be used as analog inputs, and one can be an analog output. An extra 2 I/O lines are accessible from the ICSP header, and RA0 is accessible on the RA0-VB jumper.
On VIN.
---
Resources
Documentation and other information

Pololu P-Star 25K50 Micro User's Guide
(
Printable PDF
)
User's manual for the Pololu P-Star 25K50 Micro programmable module.
File downloads
Printable pinout diagram of the P-Star 25K50 Micro.
Printable schematic of the P-Star 25K50 Micro.
Printable dimension diagram of the P-Star 25K50 Micro.
This version of the utility software requires Mac OS X 10.11 or later. For older versions of Mac OS X, use p-load 1.0.0 (33k dmg) instead (which only supports the P-Star 25K50).
This DXF drawing shows the locations of all of the board's holes.
Recommended links
Microchip's product page for the PIC18F25K50, with links to its datasheet and other resources.
MPLAB X is a free IDE from Microchip for programming their PIC microcontrollers. It runs on Windows, Max OS X, and Linux. MPLAB X comes with the a simulator and the MPASM assembler. It works well with the MPLAB XC Compilers and the PICkit 3.
The MPLAB XC Compilers from Microchip are a family of C compilers for PIC MCUs. The compilers are free to use, but paid versions are available that provide better optimizations.
A collection example code and libraries for the P-Star.
Microchip's PICkit 3 programmer is a low-cost hardware debugger and programmer for PIC microcontrollers.
SDCC is a free and open source compiler that supports many types of microcontrollers, including PIC MCUs that use the PIC18 architecture. The PIC18s are called PIC16 in the SDCC documentation and command-line interface because the instructions are 16 bits wide. As of August 2014, the SDCC manual states that the support for these PIC microcontrollers "is not yet mature and still lacks many features".
A BASIC compiler that targets PIC microcontrollers.
M-Stack is an open source USB Stack from Signal 11 Software for Microchip PIC microcontrollers.
The RPicSim library provides an interface to the MPLAB X PIC simulator that allows you to write simulator-based automated tests of PIC firmware. RPicSim is written in the Ruby language and runs on JRuby.
This bootloader can run on the P-Star 25K50. It acts as a USB mass storage device and allows the P-Star to be programmed by copying a HEX file onto it.
(PL-3150)
Be The First To Review This Product!
Help other Little Bird Company Pty Ltd users shop smarter by writing reviews for products you have purchased.
---
Others Also Bought
---
More From This Category